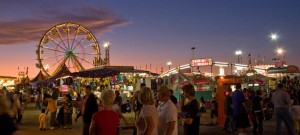 It's an amazing time of year and there's nothing more exciting right now at the Taylor Stucki Realty Group than the 2013 Washington County Fair! Running from August 7th – the 10th, there's all kinds of fun and excitement to be had for the whole family.

You can find the fair by taking the I-15 to the Hurricane Exit (Exit 16 – SR-9). Go approximately 3 miles. Turn right across from Quail Creek Reservoir and look for the flags. Although there is a $3 parking fee, entrance to the fair is free!

Some of the activities include Figure 8 race and pre-derby, Ricochet concert featuring Localgrown and the Washington County Fair Demolition Derby. For more information you can visit the official website HERE.

There's going to be all kinds of baked goods and exciting booths with something for everyone! Do yourself a favor and head on over this week and enjoy the fair! It's the perfect way to polish off the summer holiday!

Enjoy the fair and then start gearing up for the holidays by finding yourself a new home! Call today!