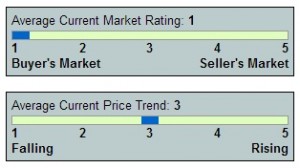 One of the major indicators we follow at the Taylor Stucki Realty Group are the numbers showing the market growth in Southern Utah. These figures were interesting for August and I wanted to share them as they show the market in a way we're seeing it as agents.

St. George is still a buyer's market. Despite the predictions of economists, the interest rate has continued to hold steady below 5%. Combined with the amount of inventory coming on the market under the 300 K price range, Southern Utah is still a place where buyer's have the strong advantage.

However, the value of homes is steadily increasing. As you can see on the second chart, the price of property is continuing to rise. That's great for seller's.

The two figures together indicate a real estate romance of epic proportions. Buyers and sellers are both enjoying the advantages of the improving climate in Southern Utah!

If you want to be a part of this incredible period of growth, call today and let us help you realize your dreams of home ownership!