Renae Stucki Realtor is a little late in announcing the opening of the St. George Musical Theater. The ribbon cutting was this evening, but we're not too late to hype the first production you can attend. Starting September 4 and running through October 11, you can see The Sound Of Music! The highly regarded theatrical adaptation of the Julie Andrews film.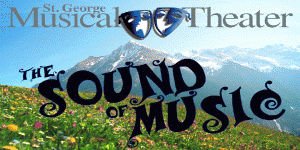 It's going to be followed by The Music Man, The Odd Couple, Dirty Rotten Scoundrels and a whole series of other productions. The season is already looking exciting and worth the time. You have to check it out.

You can see the line up and get an idea about what's coming up by visiting the website and checking out the dates yourself. You can do that by going HERE.

The St. George Musical Theater is another option for those in the community who enjoy culture and the opportunity to see live performance. There are of course other options. The local high schools put on some incredible productions and the University does as well. You can also check out the obvious choice for culture and entertainment… Tuacahn. The outdoor theater is a popular attraction hosting both off Broadway productions and concerts.

Although you may think St. George is a cultural wasteland, the exact opposite is actually true. With so many opportunities to experience theater, art and music; the community is quickly becoming a destination all on its own. Very soon, this city will attract people just because it's a cultural melting pot.

This is another reason to make Southern Utah your home. If you already live here, you know what an amazing place this is. If you don't, you should consider moving here and making this your home. It's a beautiful place. With an amazing citizenry. Call Renae today and make all your dreams come true.