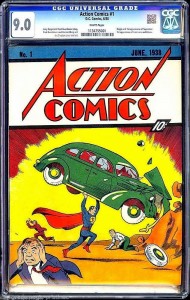 Do you know what this is??? Renae Stucki Realtor does… It's the single most valuable comic book in existence. And it just sold on eBay for a whopping $3,207,852.00.

You can see the auction and read the interesting information concerning it HERE.

This comic is the first appearance of Superman and the first use of the modern day comic book superhero. Although there are still a few of these original comics still available, this is the highest quality copy in existence.

From the day it was purchased off the shelf in a newstand to the end of this auction, the book has been sold three times. Once to the original owner who paid cover price for it. Once to a guy who bought it from the original owner and finally to the gentleman who listed it on eBay for this sale. All transactions regarding the book up until this purchase have been private. This is the first time the book has been offered to the public.

This was an exciting, once in a lifetime chance to watch the book sell. Each day, the price steadily increased. Unfortunately, you had to be prequalified to even bid on it. And that required depositing money into an escrow account. Much like buying a house! Odd coincidence.

Anyway, as an item of interest, we wanted to share this with you. It's worth exploring the auction even though it's over and watching the video. There's lots to read about the book and the sale so take some time and enjoy the history of this iconic comic book that's so dramatically influenced American culture.