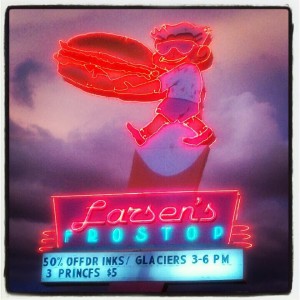 Ah, the glorious rain has returned to the St. George valley today and Renae Stucki Realtor wanted to take some time off from her busy schedule to focus some attention on another business helping make St. George such a unique and exciting place to live.

Larsen's Frostop has been a fixture on the St. George Blvd for years and it's a favorite local hangout. For almost 40 years this little burger joint has played host to generations of high school and college students as well as families out for a night on the town or a cool place to take a date!

A recent Floridian transplant called Frostop the best burger joint they'd ever experienced. With a 1950s quality, the place continues to provide quality food to the citizens of southern Utah and remains a place you can always count on if you're hanging out on a Friday night.

They have a Facebook page and you can visit it HERE. Afterward, why not contact Renae and see what else the area has to offer in unique dining and shopping opportunities. She'll be happy to give you some recommendations. And show you the home of your dreams as well. Call today.