Lime Realty Group is pleased to be a part of Keller Williams Open House event, "Paint the town Red"!!!! It happens this weekend on Saturday and anyone who visits all of the houses on the tour will be eligible to win a $400 gift card!

Lime is featuring two properties on the tour. We'll feature the Ivins home; which saw a price reduction last week and is currently listed at $259,900 and the Shadow Mountain property (52 N. 1250 West) listed at $254,900.

Here's the flyer Keller Williams is circulating: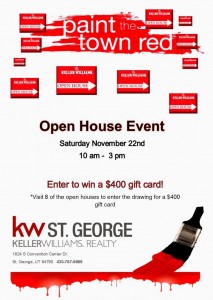 Just think about it… You can tour some amazing homes, and possibly win money for Christmas shopping. And that's not all… There's so much happening this weekend. From the Jubilee of Trees to getting ready for Black Friday, there's a lot to do and a lot to get ready for.

So start your holidays off right by visiting some of our properties and get yourself in a holly jolly mood! Come hang with us this Saturday! It promises to fun and you might end up being the lucky duck winner!!!!

As always, Lime is the only choice for quality real estate service in Southern Utah. Don't waste your time with the substandard rest… Go Lime first and know you've made the best choice.

See ya, Saturday!!!!