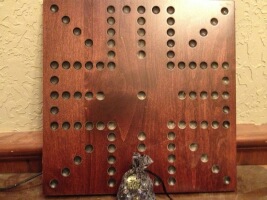 As you all by no doubt know, we are having an open house at the Stonecliff's property for the rest of the week! It's exciting and we expect a huge turnout. As an added bonus, one of our business associates has donated this hand crafted Trouble game as a giveaway to one lucky visitor!

If you've never played Trouble, this is a great time to learn. Stop by the home, fill out a slip and ask Renae to show you how to play. She's a pro.

Now there's only one of these boards, so the winner will be drawn only from the names of contestants who show up and fill out an entry form between now and Saturday. Renae will draw a name at random towards the end of the open house and the winner will be notified!

You know this board is a great game and also a great display item for a coffee table or bookshelf. Don't miss you chance to win! Contact the Taylor Stucki Realty Group today for your chance.