Renae Stucki Realtor has seriously blogged the heck out of this property… And I'm sure you're wondering why we're blogging about it again. It's really exciting! And astonishing this home is still on the market. The owners are motivated to sell and that's why we're pleased to announce yet another price reduction. The asking price has gone from $214,900. to $169,900. That's $45,000 savings! And for this property, that's a huge deal.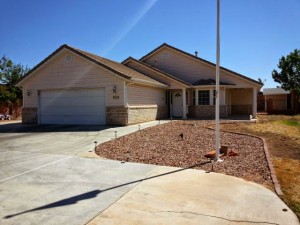 This property sits back in the circle behind other lots. It has a lot of seclusion and privacy. The yard is enclosed. It's perfect if you enjoy your peace and quiet. However, that little bit of seclusion may play a huge role in why the property isn't attracting more attention. Most of the potential buyers we've showed the property to have expressed concern with people finding the place.

However, we see it as a completely other thing entirely. I think the luxury of not being right out on the street is ideal. It offers a lot of security. The home offers 3 bedrooms and 2 baths. Built in 1999, it's still a young property by Southern Utah standards. And there's room to grow in this lovely home.

At this new asking price, the house won't stay on the market for long. There are so many people this home would be perfect for. A young family looking for a starter home… An older couple looking for a place to retire… Even a single person could live comfortably here. It's time to pick up the phone and schedule your tour today. What are you waiting for????

And as always, we know, you know… When it comes to real estate in Southern Utah, there's only one clear choice for your agent. Renae Stucki. We make your dream home come true!