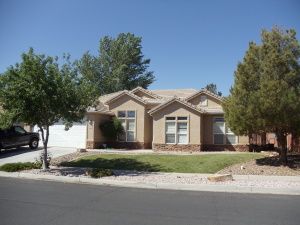 We're pleased to announce the featured home of the week at the Taylor Stucki Realty Group and it is this lovely single family home located in the Desert Hills area of St. George! It's located on 3422 Price Hills Dr. near the Desert Hills High School.

This 3 Bedroom, 2 Bath home is a perfect starter home for someone looking to break into the Southern Utah market. And at $199,900., it's an affordable property waiting for some TLC from you!

You can follow this link where we will be updating pics as they become available. Click HERE for additional pics. But don't waste too much time. It's quicker and easier just to call us and set up an appointment to view this amazing home.

It's time you met with someone at the Taylor Stucki Realty Group. We can help you find out how much you qualify for and start shopping for a home in your range. This property is ideal for a first time home buyer. And you may be surprised at how much you can actually afford with today's low mortgage rates.

If we can get you qualified, we can lock in a lower rate while we work out the details and make offers on properties you're interested in. So don't be intimidated or afraid. Our helpful staff and partners will make the process easy and painless.

All it takes, is a phone call from you and we can get the ball rolling. If this is a home you would love to live in, why not take a chance and call today?