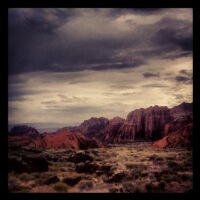 So the Taylor Stucki Realty Group asked you to share photos with us of your Southern Utah and Greg G of St. George submitted some intense photos. We wanted to share some of them with you.

This first amazing photo looks more like a painting than an actual photo. The colors are dark but beautiful! They're rich and give a sense of impending rainfall.

Greg took this pic while hiking in the hills and mountains of the area. i'm guessing this photo was taken above Snow Canyon, but we'll have to wait for Greg to answer that for us. We'll show you more of his submissions in the days to come, but this one seemed like a great jumping off point and we wanted to share it today.

Feel free to submit your own pics of the incredible scenery of Southern Utah. We'll post your pics as well!