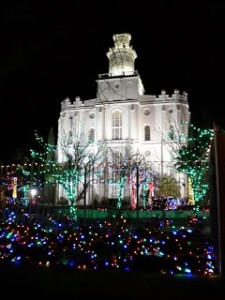 Renae Stucki Realtor wanted to take this opportunity to bring you news about another amazing Southern Utah landmark. The St. George LDS Temple.
It's the first temple completed by the LDS church after the forced exodus of the body of the church from Nauvoo, Illinois.
The building is located in St. George and is more similar in design to the Nauvoo temple than later temples. It's the oldest temple still actively used by the church and has a total floor area of 110,000 ft. It was originally designed with two large assembly halls like the earlier Kirtland and Nauvoo temples. In 1938, the lower Assembly Hall was rebuilt with walls dividing it into four rooms used for temple work. Those rooms were later changed to three.
The temple was commissioned by LDS prophet, Brigham Young in 1871 and was dedicated upon completion in 1877. Brigham Young later died that same year.
The temple is a tourist attraction as well as a sacred building for LDS members in the Southern Utah area. It has lovely lawns and garden areas along with a visitors center catering to tourists who want to visit the building and enjoy the gardens.
The most exciting aspect of the St. George temple is the wonderful Christmas lights put up each year in December. The lights are magnificent! And also a tourist attraction. The temple also hosts a lovely nativity scene with holiday music performed by the Mormon Tabernacle Choir playing over an intercom.
This year, take some time between your busy holiday shopping and celebrations to experience this wonderful landmark and enjoy the lights and special spirit created at the St. George LDS Temple. Another reason to make St. George and Southern Utah your home.