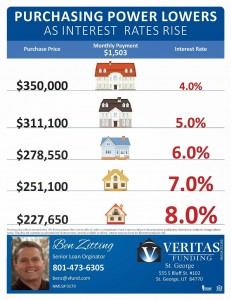 Renae Stucki Realtor collaborates with many local business' in Southern Utah and Veritas Funding is one of them. Recently, Ben Zitting at Veritas created this graphic to show the impact of interest rates on your purchasing power.

The graphic hopes to demonstrate why we're constantly posting blogs about why now is the time to buy before rates go up.

Here's how you read the chart… When your mortgage loan officer sits down with you to determine how much home you can buy, they're able to give you a price range based on a number of things. One is the interest rate. Another is how much your income allows you to pay each month.

With a monthly payment of $1,503, at 4% interest, you can look for a home in the $350k range. However, as the interest rate rises, that $1,503 payment will buy you less and less. At 8%, you'll most likely only be able to buy in the $227k range. So for the same amount of money each month, you're getting much less house. And you drop over $100k in what you can qualify for to purchase.

When we caution our clients to make a decision and buy now, we're doing so because now really is the right time to get into the market. The interest rate is still relatively low and there's still some power in your dollar.

With the changes in the Fed coming up next year and as the economy slowly strengthens, your buying power will decrease dramatically. Don't wait. Call today and let us help you get into your dream home.