Everyone is wondering if 2014 will be a huge change in the market for where they live and Renae Stucki Realtor is no exception. Analysts are predicting a flattening market with home values adjusting to a normal and more reasonable level while personal income catches up with market growth. However, those flat lines can mean good and bad news for sellers and buyers.

For buyers, it means prices aren't going to continue to increase giving them a chance to offset some of the value they lose in their money through rising interest rates. For sellers, it means they won't be able to ask for more. Home owners won't see equity increasing and that could prevent some of them from refinancing.

However, each unique area and market are different. This will be more extreme for people living in areas still depressed and struggling. Whereas those who are shopping in more aggressive markets, will find values continuing to increase.

But what does that mean for Southern Utah?

Well, CNN Money website posted a calculator to see what the projected growth over the course of the year would be for different markets. And here's how St. George did: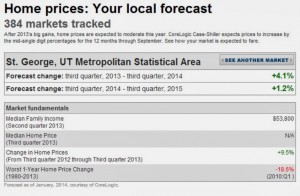 As you can see, although the rate of increase is projected to slow, St. George properties will continue to gain value. That's excellent news for our area and indicates our economy is still chugging along.

For those of you who feel ready, now's the time to contact Renae and let her schedule a tour of one of our local hot properties and get you on your way to being a part of this exciting time for discovering home ownership.