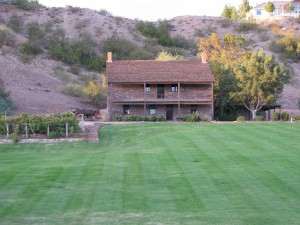 One of the things we like to write about here at the Taylor Stucki Realty Group is tourist attractions. Especially if they take the form of homes. In this case, Santa Clara has the distinction of playing host to this historic pioneer residence.

Jacob Hamblin was a Mormon pioneer who helped found Santa Clara. His original homestead was destroyed in a flood and in order to avoid the possibility of another flood, he built his next house against the hill. These days, that hill and the homes on it are considered the heights of Santa Clara while the valley below is considered to be the main town proper.

The road the house is located on used to be the direct route to Las Vegas. Tourists traveling through Utah to Vegas would drive through Santa Clara with all of it's roadside fruit stands. To this day, there is one fruit stand still remaining from those early days.

The Jacob Hamblin home is in remarkable shape and has been preserved meticulously as a museum dedicated to the early lives of the Mormon pioneers who settled the area.

If you're planning on visiting Southern Utah, or even if you plan on moving here, make this incredible tourist attraction one of your destinations. Visit historic Santa Clara and take some time to shop the quaint shops, bakery and fruit stand along the main street. Then enjoy a strolling tour through the home before heading off to experience any of the other hundred distractions this area has to offer.

I'm sure you'll find yourself wanting to enjoy the scenery and weather of Santa Clara on a more permanent basis. Contacting us will set you on the path to discovering just how affordable Santa Clara can be. We can help you find your dream home in this ideal community. Call today and we'll make your dream come true!