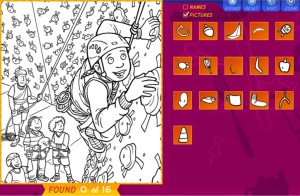 Hey Mom… Are you dreading the summer holidays and having kids sitting around with nothing to do? Well, Renae Stucki Realtor has a suggestion for some safe and secure online fun that's both educational and entertaining.

There are a lot of websites competing for your children's attention these days. Most of them aimed at branding merchandise and getting your kids to want whatever the company is selling. One example is Disney and Disney sites like Pixie Hollow. They're generally safe and secure places where children can go online and explore without being in danger.

And here's one a lot of people don't know about. Highlightskids is a site with all kinds of games and activities that will keep even the most bored child going for hours on end. The hidden pictures games are my kid's favorites! They love finding the hidden objects and clicking on them.

So if you find yourself with a group of kids needing some entertainment this summer, head on over to this family friendly site and let em explore the stories and the games. You won't regret it.

And take some time to go house hunting this summer. Call Renae to schedule some tours of prime properties in the area.