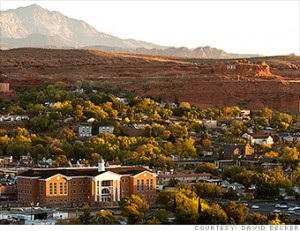 While surfing online at the Taylor Stucki Realty Group, I came across an article from the Money desk at CNN. They listed the top 100 places to live in the US and guess what??? St. George ranked #63! Now you may think that's not a very high rank until you consider how many communities there actually are in this country. For those of you interested in reading the article and finding out what some of the other ranking cities are, click HERE.

I'm sure this doesn't come as much of a surprise to those of us who love the area and live here. Maybe you're one of those people considering the move to this amazing location. If that's the case, consider contacting the Taylor Stucki Realty Group and let us help you find the perfect home to settle in once you get here.

This really is an amazing city and to prove how much it's loved and appreciated by its residents, here's another photo contributed by Greg G. of St. George.