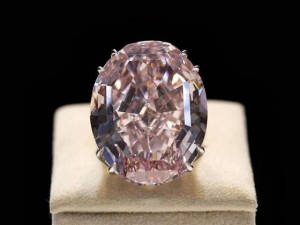 Believe is or not, Renae Stucki Realtor found this little treasure online and couldn't wait to share it with you. Isn't this diamond beautiful?

It's a very rare diamond. In fact, it has a name. It's called, the Pink Star and today this amazing gem sold for $83 million dollars!

Are you losing your marbles right about now too? Incredible as it may seem, a private buyer purchased the Pink Star at an auction in Geneva, Switzerland this morning. Although the owner remains anonymous, the sale price sets a new world record and makes the Pink Star the most expensive diamond on the face of the earth.

For the article about the Pink Star, click HERE.

Now there's a small chance I'm wrong but I'm certain there's not a single home in Southern Utah selling for $83 million. They're much more reasonably priced and still affordable. So I'm wondering what you're waiting for? Call today and let's get the ball rolling. This is the time for you to make your big purchase and own a piece of Utah real estate. Call today. I promise you won't pay anywhere near the price of the Pink Star and you'll be much happier with your purchase!