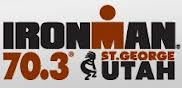 St. George, UT is the home of the 2013 IRONMAN 70.3! The Taylor Stucki Realty Group is always excited about the fascinating events happening in the Southern Utah area and this weekend is no exception.

Originally dubbed the St. George Ironman, the franchise decided last year that St. George doesn't work as a full distance triathlon. The distance is shorter, and the new race will be called Ironman 70.3. It will consist of a 1.2 mile swim, 56 mile bike and 13.1 mile run.

Events like Ironman 70.3 have an amazing impact on Southern Utah and make St. George an area of national attention. It's one of the reasons St. George is such a vital area for real estate.

There are other exciting attractions to the area and contacting the Taylor Stucki Realty Group is one way to find out about some of the events happening in this vital area. Take some time to contact them today and get started on experiencing the wealth of opportunities Southern Utah has to offer today!