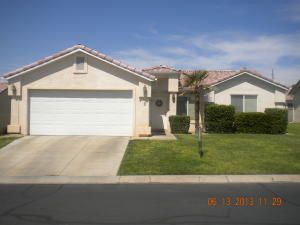 The Taylor Stucki Realty Group is at it again! This week, our featured property is this lovely home located in the Moon River community! This 3 bedroom, 2 bath home was built in 1997 and is in excellent condition. It's a well loved and cared for home with beautiful finishes, new dishwasher (2012), new HVAC (2011), ceiling fans, upgraded fixtures… The list goes on and on.

This property would be excellent for the first time home buyer or even for someone looking for a second home. Especially one in the Southern Utah area.

Tomorrow, the 22nd, we will have an open house at this lovely home and we hope you'll join us to take a tour! Feel free to stop by and enter for a chance to win one of our drawings. We have some great prizes donated by our business partners in the community and we look forward to a whole group of winners!

You can look at this property online by going HERE. You can see pictures, but nothing is more exciting than seeing it in person. The major cross street for this lovely home is Riverside Dr. Come in and see your new home!