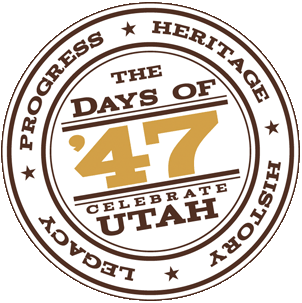 That's right, everyone!!! It's Pioneer Day! And Renae Stucki Realtor is here to wish all of you a great holiday! For those of you who aren't familiar with the Days of 47 or Pioneer Day as we call it, here's some background.

Pioneer Day is an official holiday celebrated on July 24 in Utah with some celebrations in regions of surrounding states originally settled by Mormon pioneers. It commemorates the entry of Brigham Young and the first group of Mormon pioneers into the Salt Lake Valley on July 24, 1847 where the church settled after being forced from Nauvoo, IL and other locations in the eastern US. Parades, fireworks, rodeos and other festivities help celebrate the event. Similar to July 4th, most government offices and many businesses close on Pioneer Day.

In addition to being celebrated as a State holiday, members of the LDS faith consider it a special day and look forward to it. Even members in other countries will sometimes celebrate the event. It is a remembrance of the church's pioneer spirit and history.

While it has strong links to the LDS faith, it's still considered a celebration of anyone, regardless of faith or nationality who emigrated to the Salt Lake Valley during the pioneer era. This period of time is considered to have ended with the arrival of the transcontinental railroad in 1869.

So go out there and have a great day! Do something fun and exciting, but be safe and take care of each other. There's nothing more important than the safety of you and your family! Enjoy fireworks, have a cookout and if you have some free time this weekend, call Renae and let her show you some of the exciting housing options the Utah pioneers made possible by settling this amazing state. Enjoy and take care!