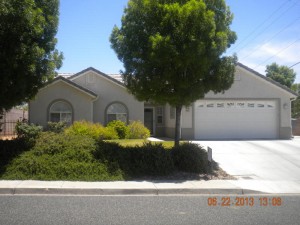 The Taylor Stucki Realty Group is featuring a new property this week. This one is located in the Sagecreek subdivision. The area is near the Red Cliffs Mall, Megaplex Theaters and the Washington Walmart. It's smack dab in the middle of all kinds of activity.

This home features a large enclosed backyard, typical for the area. There's also a shed, barbecue and basketball standard. The master bedroom features a walk-in closet and shower. Washer and Dryer are also included with the purchase of this lovely home.

At the asking price of $199,900, this property won't be around long. It's the perfect 2nd home for someone wanting to escape the cold north during the winter, or an even better starter home for a young family. It's proximity to Sandstone Elementary School is also a bonus. This school had teachers recognized on a national level for education excellence. A great place for you kids to get an education! Go Raptors!

You really owe it to yourself to stop in and take a look. Taylor Stucki Realty Group would be happy to give you a private tour. We can help you find financing and shop around for the home that's just right for you. Who knows, this may be the house you've been looking for! Feel free to contact us and let us help you make your dreams come true.