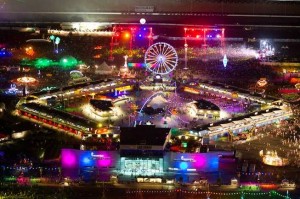 Renae Stucki Realtor is a passionate advocate of Las Vegas being a reason to live in Southern Utah. We have the great fortune to benefit from all of the exciting events that go through Vegas without the fuss of dealing with the big city.

Take the Electric Daisy Carnival happening this weekend in Las Vegas. This is one of the biggest and most attended electronic music festivals in the entire world! And it's happening right now! Right next door to us.

Because the carnival runs for a few days, there are bands playing nonstop for the entire period. Right now, the main stage is on break but there are three other stages showcasing such popular electronic musicians as Paul Oakenfold and Infected Mushroom.

Although Electronic music may not be everyone's cup of tea, it's a great example of the diverse culture and opportunities we have living so close to the entertainment capital of the world.

Let's keep the home town feel and enjoy the big city excitement. Las Vegas and shows like the EDC are reasons St. George and Southern Utah are a great place to live.

Check out the website for EDC and watch streaming performances of bands on stage now!

And call Renae when you're ready to buy the home of your dreams!