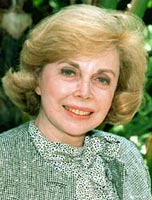 Normally, the Taylor Stucki Realty Group would post something about the market in Southern Utah today, but I'd like instead to take a moment and share some thoughts about a very sad event.

Today, psychologist, talk show host, commentator, author and media personality Dr. Joyce Brothers passed away from respiratory failure in her home. Brothers is considered the founding mother of media psychology. She wrote numerous books and helped thousands of people with their problems through media outlets and in private. She was sensitive, thoughtful and caring about others.

It's always sad when the world loses people who love and care deeply for their fellow men. Dr. Brothers may not be on the great humanitarian list, but she was a person who tried to help others.

Keep checking back for more updates on what's happening in the housing market in Southern Utah. And in the meantime, remember a remarkable woman who made a difference.